Written by

Rosanna Neophytou
Launch of the Trans Bhutan Trail
Today, on the 28th September 2022, at the historic Semtokha Dzong, the Trans Bhutan Trail officially launched to the public. It was restored under the patronage of His Majesty The Druk Gyalpo and was today inaugurated by His Royal Highness Prince Jigyel Ugyen Wangchuck, Representative of His Majesty The King and President of the Bhutan Olympic Committee. 
The launch begun with a Marchang Ceremony and Butterlamp Lighting Ceremony followed by prayers to bless the Trail. After there were speeches from Dorji Dhradul, the Chairman of Tourism Council of Bhutan, Sam Blyth (founder of Bhutan Canada Foundation) and an address from His Royal Highness. 
His Excellency The Prime Minister joined the occasion and walked the section from Semtokha Dzong to Punakha.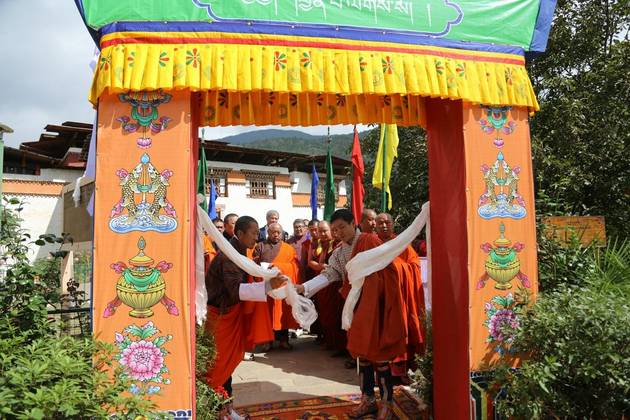 Transcript of speech given by Dasho Dorji Dradhul, Director General of TCB, at official Trans Bhutan Trail Launch:
Your Royal Highness Prince Jigyel Ugyen Wangchuck, Your Excellency Prime Minister, Dignitaries, Trans Bhutan Trail Partners, Supporters, and our friends from media and tourism from all around the world.
Kuzuzangpola and thank you for joining us on this important day to inaugurate the Trans Bhutan Trail.
3 years ago, under the vision of His Majesty The King, we began the work on restoring the ancient Zhunglam that connected Bhutan from east to west.
The Bhutan Canada Foundation, led by Mr. Sam Blyth, has been leading this project with support from the Tourism Council of Bhutan and various other institutions. In particular, the DeSuung and Scouts organization have been of incredible support. The National Land Commission has provided detailed surveys and digital maps, and our partners in government, tourism stakeholders, and local communities have been very important to the success of this restoration, working relentlessly even with the challenge of the pandemic.
The Trans Bhutan Trail has been a Trail of Unity. In ancient times, it was used by religious leaders to spread Buddhism, by traders to barter products, by soldiers marching towards battles, by legendary Garps – messengers – to share secret messages, and most importantly, by our Monarchs to meet with their people and thus unite the country. 
We have now come full circle – in restoring the trail in the past few years, we have worked with the same spirit of unity – engaging dozens of village communities along the trail, hundreds of farmers and villagers, over a thousand DeSuups and Scouts, while receiving support and partnership from numerous government and private agencies across the country. The Trans Bhutan Trail is a Trail that unites, and today's inauguration is a result of a national collaborative effort.
As you walk on the Trans Bhutan Trail, you will be able to walk in the footsteps of our ancestors. You will witness the sights and sounds of what makes Bhutan truly special. You will meet with over 70 of our Trans Bhutan Trail Ambassadors – all of whom are locals, villagers, farmers, homestay owners, shopkeepers – who will share their stories of the Trail. You will find technology embedded through the 170 QR codes that have been placed on the Trail – each one revealing information localized to that place. 
As you walk on the Trans Bhutan Trail, you will discover what it means to be Bhutanese – what it means to Believe.
The last 3 years has proven what we have always known: The journey on the Trans Bhutan Trail is not just about walking on an ancient physical route – it is an exploration of ancient traditions, an adventure through our ecological inheritance, and a celebration of a unique cultural heritage.
Welcome to the Trans Bhutan Trail.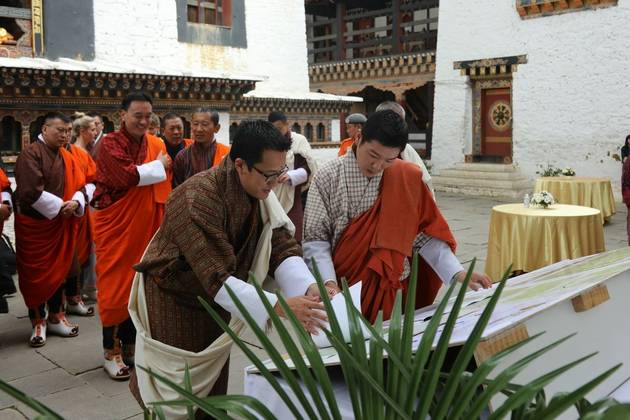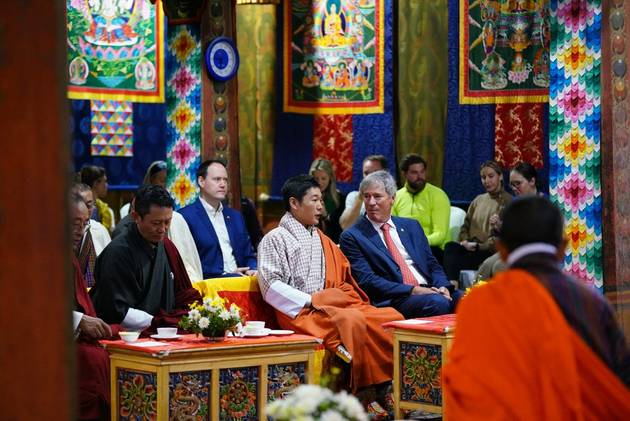 Words from Sam Blyth preceding the launch: 
"Thank you, Dasho, and let me reiterate your welcome to Lyonpo's, Dashos, and guests both local and from abroad. His Majesty sends his greetings from the UK where he is observing the week of official mourning following the Royal funeral.  
A special welcome to Karma Wangchuk and Dasho Tashi Wangyal who both came as 16 years old scholars to study in Canada, lived in my homes for many years, and became a part of my family. Needless to say, they excelled in their studies and returned to Bhutan where they have also excelled. I am very proud and love you both and appreciate your support for me and this project. 
The Trans Bhutan Trail was born of His Majesty vision and support, built by hand by thousands of Bhutanese for the Bhutanese people. Normally a speech like this would be replete with thank you's but in truth this project wasn't done for me or the Bhutan Canada Foundation. It was done by Bhutanese from all walks of life and a fantastic team led by Dasho DG, Dasho Sonam Rinchen, Rabsel Dorji, and Karma Tshering out of love for their King and country and to restore an enormously important part of Bhutan's history and culture. And to bring life and commerce to some of the remotest communities in the country and allow Bhutanese and particularly the youth of this country to walk in the steps of their ancestors.
Nor was it done for you journalists or your readers, tour operators or your clients. It isn't a tourist trail. That said the Bhutanese will share the Trail with your readers and guests, and though sometimes poor will provide tea, share their food and even provide a bed for the night. All the while probably telling stories of how their grandparents and great grandparents walked the Trail. 
The Trail probably dates back to the 16th Century and was created by pilgrims, soldiers and traders, both Bhutanese and Tibetans who had crossed the high Himalaya. They would have found gups or villages deep in the valleys that had been isolated so long that they had distinct dialects and religious beliefs unknown even to the people in the next valleys. Pilgrims with nothing more than the clothes on their back would have been fed and housed by these villagers, a tradition that lives on today. Garps or runners populated the Trail to move mail and messages  and Dzongs were built along it to defend against invaders.
There was little written record or mapping when we started to research the trail particularly in the central and eastern regions. This was the result, in part, that oral languages predominated and to an extent still do in the east.  So, we held town hall meetings often around fireplaces at night in each of the gups or villages to get their input and talk to the elders about their recollections. From this came an archeological like excavation that revealed rutted pathways, worn stone steps, chortens or signposts and all kinds of religious icons. 
60 years is a short time in our natural history, but an age in the life of a trail. Not only was it quickly overgrown but many stairways subsided, and bridges collapsed dividing villages, farmers from their fields and relatives from their families. More than 400km of trail was cleared, 10,000 stone steps cut and installed and 18 bridges built over 115,000 feet of vertical sometimes in very challenging weather. I salute each and every Bhutanese and particularly the Dusuup that performed this mammoth task in record time. Your efforts will go down in history. 
A path is a path but a trail is many things. For some it will be work as a guide, in Trail Maintenance or hospitality to provide for their families. For others it will be for their health or wellbeing or to connect with other people and their cultures across this country or to use it as part of their schoolwork, training or national service.  For others it will be a walk in a giant open aviary for there are as many bird species here as there are in Canada, USA and Mexico combined. For others there they will find a floral diversity that has attracted Botanists since the mid 19thC. And for others rich and stable populations of large mammals including boar, takins, bear, leopard, snow leopard and the Royal Bengal Tiger.
And for some it will be a spiritual or religious journey in a deeply Buddhist country. The Trail also has a rich history of myths and legends which provides the pathways to understanding the culture both ancient and modern.
Bhutan can teach us many things. You will be walking in a country that has 70% forest coverage and which has a constitutional mandate that no less than 60% of the country be conserved as virgin forest. It may also be the only carbon negative country in the world and one that has always put the quality of life in front of quantity. With free education and universal health care it shares its resources remarkably well and has built a just and equal society.
Almost 40 years ago when I first came to trek in Bhutan, I heard stories from elders of an ancient trail that extended deep into the remote central and eastern parts of the country and that they had walked as children. Fewer than 3,000 foreigners a year visited Bhutan at the time, and few went beyond Paro, Thimphu and Punakha. I dreamt of walking that trail.
And so next Wednesday I will leave Semtokha Dzong hopefully with you, to realize that dream. As I do so I will think of the millions of steps that created the rutted pathways and wore down the stone stairs and how in doing so they helped create Bhutan. I hope the Trans Bhutan Trail will play a role in enriching and sustaining it.
A warm welcome to the Trans Bhutan Trail and Tashi Delek."